The roads of Savannah, Pooler, and Richmond Hill are out there waiting, and many local drivers are looking for the perfect blend of performance, practicality, and refinement to take them on.
In this Volkswagen Golf GTI vs. Subaru WRX comparison, we'll show you how two popular compact cars deliver on all the above-and how they measure up to each other.
Are you ready to team up with one of these sleek cars? Read up on your options and reach out to Savannah Volkswagen with any questions!
Volkswagen Golf GTI

Subaru WRX

Standard Engine

2.0L 4-Cylinder

2.0L 4-Cylinder

EPA Fuel Economy

25 city/33 highway1

21 city/27 highway

Max Cargo Space (cu ft)

52.7

12.0

Rear Legroom (in)

35.6

35.4
VW Golf GTI vs WRX: Cargo Space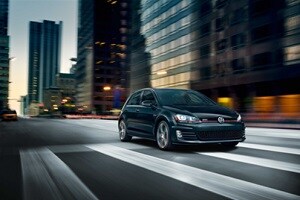 One way in which the VW Golf GTI and WRX differ? The latter is a sporty sedan (some would call it a sports car), while the former is a hatchback. Due to its design, the Volkswagen hot hatch has more cargo space available.
The WRX trunk offers 12 cubic feet of cargo volume, which'll fit up to nine grocery bags but not much else. By contrast, you'll find 22.8 cubic feet in the VW Golf GTI-perfect for vacation luggage for the family. You can fold the rear seats for a cavernous 52.7 cubic feet in the Volkswagen.
Keep in mind, too, that the VW Golf GTI offers added storage space under the cargo floor. You won't find this extra flexibility in the Subaru car.
Learn More: 
Practical Performance Specs
If practicality is the name of the game, the Volkswagen Golf GTI and Subaru WRX bring crucial strengths to the table. Both run standardly on turbocharged 2.0L 4-cylinder engines, and both have earned rave reviews for their responsive dynamic handling.
Per EPA estimates, the Volkswagen Golf GTI sees up to 25 city and 33 highway MPG when equipped with a 6-speed manual transmission.1 The WRX, unfortunately, can't quite live up to the fuel-sipping reputation of its competition: It gets just 21 city and 27 highway MPG in its most efficient configuration.
So, if you want to spend less time at the gas pump and more on the road, the Volkswagen car has serious advantages!
Interior Feature: Comfort & Style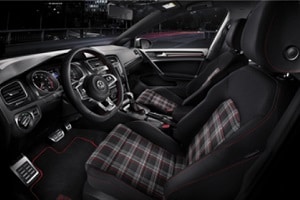 You'll have no problem sitting in the VW Golf GTI and WRX for long drives, as these rides both sport comfy seating. With roughly 35.5 inches of rear legroom in each, adults in the rear cabin will have ample space to stretch their legs. Seats in both cars are the ideal blend of comfy and supportive.
As far as style, the WRX has made some improvements in recent model years, with more soft plastics and attractive red sport stitching throughout the cabin. However, it's hard to beat the suave cabin style of the VW Golf GTI.
That distinctive plaid pattern on the seats ensures you'll always stand out in the Volkswagen hot hatch-and with red stitching of its own and even more soft-touch materials, this car's build exudes quality. 
Volkswagen Golf GTI vs Subaru WRX: The Verdict
So, now that you've gotten a look at these two popular compact cars, what do you think? We hope you've learned a lot from our Volkswagen Golf GTI vs. Subaru WRX comparison.
While these are both impressive vehicles, if you're looking for efficiency, cargo space, and chic cabin style, the VW Golf GTI does everything right. If you live near Savannah, Pooler, or Richmond Hill, schedule a test drive at Savannah Volkswagen and try it out for yourself!
1 EPA estimates. Your mileage will vary and depends on several factors, including your driving habits and vehicle condition.