Motorists across Savannah, Pooler, and Richmond Hill value small cars for their efficiency and practicality for the daily drive. If you're shopping for a compact car, we hope you'll find this Volkswagen Jetta vs. Ford Focus comparison helpful.
In it, we'll give you detailed overview of how the VW Jetta and Ford Focus stack up against each other. If you want to learn more, feel free to reach out to us!
Learn More: 
VW Jetta vs Ford Focus: MPG Fuel Economy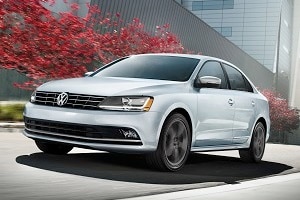 Is efficiency among your greatest concerns? You'll like that these two cars achieve excellent fuel economy figures. The VW Jetta gets an EPA-estimated 30 city and 40 highway MPG, helping you go farther on less fuel.1 The Focus, meanwhile, can be just as efficient, with up to 30 city and 40 highway MPG as well.
Dig a bit deeper into those numbers, though, and you'll find the VW Jetta has some advantages. It achieves those incredible figures across all trim levels, so you have plenty of flexibility when it comes to choosing your next ride. The Focus only achieves those same heights on its SE trim, with the 1.0L EcoBoost® 3-cylinder engine.
Focus vs. Jetta Top-Tier Technology Features
The Volkswagen Jetta and Ford Focus share many of the same technology features. If you want access to your apps while you drive, these two cars offer Apple CarPlay™ and Android Auto™ connectivity options. Just link your phone via USB port, and you can send texts, make calls, and more from the touchscreen!
Keep in mind, though, that while these features are standard in the VW Jetta, you'll need to choose higher Focus trim levels if you want the same options. The VW Jetta also offers a third option, MirrorLink®, which you won't find in the Ford car.
In the Cabin: Jetta vs. Focus Creature Comforts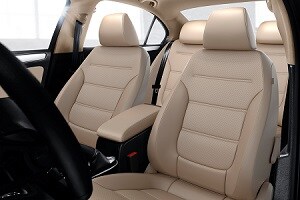 Slide into the cabins of the VW Jetta and Ford Focus, and you'll find a range of available amenities, such as leather seats and heated front seats. The VW Jetta even offers optional cooled front seats, so you can stay comfy on those hot summer days.
The front seats are roomy enough to accommodate even the tallest adults. However, in the backseat, the VW Jetta takes the advantage. With 37.4 inches of legroom, it's suitable for most adults as well as children. The Focus has just 33.2 inches of rear legroom, which likely won't keep adults comfortable on longer rides.
VW Jetta vs. Ford Focus: The Verdict
At Savannah Volkswagen, we're here to give you all the information you need to choose your next small car. Now that you've read our Volkswagen Jetta vs. Ford Focus comparison, we hope you have a clearer idea which ride is more suitable for you.
We think the VW Jetta stands out for its exceptional fuel economy, top-tier technology, and spacious rear seats. If you live near Savannah, Pooler, or Richmond Hill, you can experience those qualities for yourself by scheduling a test drive at our dealer. See what the VW compact car has in store!
Related Posts: 
Volkswagen Jetta Lease Deals
Volkswagen Jetta Trim Levels
Volkswagen Jetta vs. Honda Civic
1 30 city/40 highway mpg (2019 Jetta 1.4L, 6-speed manual transmission). EPA estimates. Your mileage will vary and depends on several factors, including your driving habits and vehicle condition.