Midsize cars look sportier than ever these days, and that's certainly true of the 2019 Volkswagen Passat and Nissan Altima. When you hit the roads of Savannah, Pooler, and Richmond Hill, you'll turn heads with either of these sleek sedans. 
Which one is the perfect fit for you? In this car comparison, we'll give you all that you need to make that decision. Read on to explore these cars' features and capabilities-and reach out to the team at Savannah Volkswagen if you want to learn more! 
2019 Volkswagen Passat

2019 Nissan Altima

Base Torque (lb-ft)

184

180

Cargo Space (cu ft)

15.9

15.4

Hands-Free Trunk Lid

Available

No

Rear Legroom (in)

39.1

35.2

Standard Upholstery

Synthetic Leather

Cloth


VW Passat vs Altima: Cargo Space & Storage 
The 2019 VW Passat and Altima offer plenty of cargo space. Under the trunk lid of the Nissan sedan, you'll find 15.4 cubic feet of cargo space-enough to hold everything from golf clubs to vacation luggage. In the Volkswagen sedan, there's even more space: 15.9 cubic feet, to be exact. 
One mark against the Altima is its hinge system. The trunk hinges stick out a bit awkwardly and will likely impede the flexibility of your trunk. The Altima also lacks the available hands-free power trunk lid in the VW Passat. Just kick your foot under the rear bumper, and the trunk lid in the VW car opens automatically!
Sedan Performance Specs
Under the hoods of the base Volkswagen Passat and Nissan Altima are 4-cylinder engines, and the one in the VW Passat is turbocharged. The base engine in the Altima cranks out 180 lb-ft of torque, while the 4-cylinder in the VW Passat offers a similarly powerful 184 lb-ft of torque.
For a sportier drive, you can find available paddle shifters on the steering wheels of both cars. These two cars are comfortable cruisers, but the VW Passat stands out among test drivers for its impressively serene ride. It glides over dips and bumps in the road and stays highly composed around turns. 
Creature Comforts: Interior Features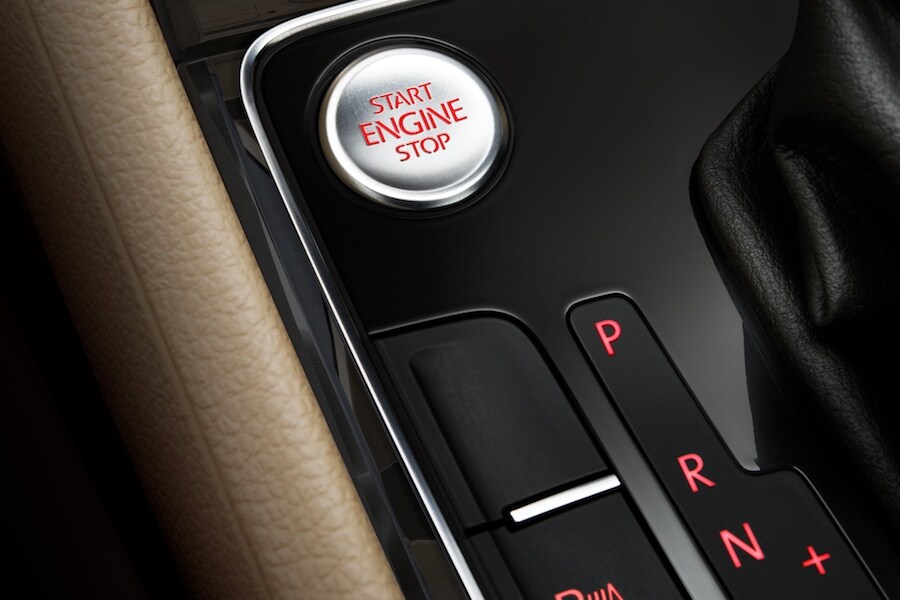 In the 2019 VW Passat and Altima, you'll find incredibly spacious front-row seats. With front-row legroom that comes to more than 42 inches, these sedans will keep even the tallest drivers comfortable. Plus, front headroom that measures more than 38 inches makes it easy to enter and exit the vehicles.
Look to the backseat, though, and the Altima feels a bit cramped for adult passengers. With just 35 inches of legroom, it's certainly less spacious than the VW sedan. The Volkswagen Passat has more than 39 inches of rear legroom and gives you more space to stretch your legs. 
If you're looking for stylish, easy-to-clean seats, the standard V-Tex leatherette upholstery really gives the VW Passat a premium feel. The Altima has deluxe seating options available, but in the base trim, you will need to make do with cloth seats. 
Volkswagen Passat vs Nissan Altima: The Verdict 
We hope our car comparison is helpful as you search for a midsize car that can handle your daily drive in Savannah, Pooler, or Richmond Hill. Now that you've read up on the 2019 Volkswagen Passat and Nissan Altima, which one appeals to you most?
While both cars are impressive, we think you'll really like the premium seats, large trunk, and smooth ride of the VW Passat. Schedule a test drive at Savannah Volkswagen and see what you think!